Puget Sound Anglers
North Olympic Peninsula Chapter
---
Alert!!!!!!!!! Notice of Public Workshops - Puget Sound Hatcheries Draft Environmental Impact Statement
In July 2014, NOAA Fisheries released for public comment a draft environmental impact statement (DEIS) on resource management plans for 133 Puget Sound salmon and steelhead hatchery programs. In early September, NOAA Fisheries will host public workshops on the DEIS in four locations in the Puget Sound area. At the workshops NOAA Fisheries representatives will discuss the project and answer questions.
Workshop attendees may submit comments on the DEIS by leaving them in the comment box at the meetings. Comments may also be submitted by email to PShatcheryEIS.wcr@noaa.gov, or by regular mail to the mailing address provided at the project website identified below. All comments on the DEIS must be received by NOAA Fisheries no later than October 23, 2014.
The DEIS and information on the project are available online at http://www.westcoast.fisheries.noaa.gov/hatcheries/ps_deis/ps_deis.html
For more information, please contact Steve Leider at (360) 753-4650.
Dates, times, and locations of the workshops are:
Monday, September 8
6:00 to 8:00 p.m.
Fort Worden State Park
Chapel - Building 24
200 Battery Way
Port Townsend, WA
(Note: A State Parks Discover Pass is not needed for vehicle access to the meeting location)
Tuesday, September 9
6:00 to 8:00 p.m.
Lacey Community Center
Banquet Room C
6729 Pacific Ave SE
Lacey, WA
Wednesday, September 10
6:00 to 8:00 p.m.
Renton Community Center
Banquet Room
17155 Maple Valley Highway
Renton, WA
Thursday, September 11
6:00 to 8:00 p.m.
Sedro-Woolley Community Center
703 Pacific Street
Sedro-Woolley, WA
Welcome to the website for the North Olympic Peninsula chapter of the Puget Sound Anglers.
We are dedicated to preserving quality fisheries. We believe that our fisheries resources can be restored to what they should be with sound science and appropriate management techniques.
Thank you, Sponsor! Click on the banner below to learn more about this sponsor.

Our Fishing Club Sponsors
Our fishing club is privileged to have the support of many fine sponsors. They help us achieve our club goals with their financial support and contributions.
Club Fishing Reports
Our club fishing reports will tell you who's catching what, when and where!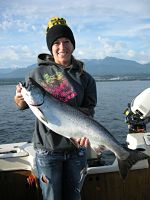 We meet monthly, the 3rd Thursday, to share fishing information and to hear from professional biologists, guides and local experts on topics pertinent to the Olympic Peninsula.
Recent topics have included: the Elwha damn removal, techniques for fishing for halibut and Bottomfish/Rockfish identification. We have a raffle at each meeting ($1.00 tickets) for fishing gear like lures, tools and rods.
It's a great way to add to your tackle box and as everyone knows, "you can never have too much tackle". See below for meeting details.
Interested in
Great Places to Fish
? You can find
Great Places to Fish
photos taken by our members throughout this website and on the Reports page.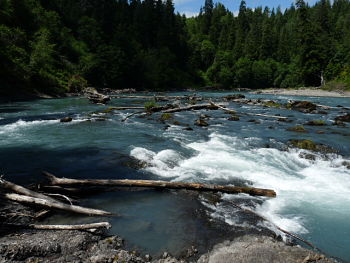 Great Places to Fish: The Hoh River above the Oxbow Campground boat ramp. Photo by Sherry Anderson
FUTURE PROGRAM SPEAKERS
May 1 (date change from April 17)
Herb Prins, Ed St. Charles & Bob Keck: Halibut fishing techniques, including locations, trolling and anchoring methods.
May 15
Walt Blendermann: Salmon fishing, gear, methods and techniques.
May 17
Kid's Fishing Day, 8am-2pm Carrie Blake Park, Sequim

June 19
Cdr. Tom Sullivan USCG: Home land security and escorting naval ships.
July 17
Steve Chamberlin: Using on-board electronics to full advantage.
Aug 21
Ken Pinnell of Q Cove: Presenting and demonstrating lures and techniques

Sept 18
John Beath: Coho fishing techiniques

October 16
Scott Chitwood, Natural Resources Director Jamestown S'Klallam Tribe: Treaty rights, how are we getting along with each other.
November 29-Open
December 18
Bob Kratzer, owner of Angler's Guide Service & representative of Northwest Olympic Peninsula Sportfishing Coalition: Hatchery and Wild: The future of Pacific Northwest salmon and steelhead